Solo Semi-Finals Are Over – Nine Pianists Played
On Thursday, July 12th, the Jury of the William Kapell International Piano Competition and Festival selected nine semi-finalists from a field of twenty four.  These nine pianists were heard in three solo semi-final rounds on Friday, Saturday and Sunday performing recitals of an hour each including both the required American piece — Leon Kirchner's Interlude II proving to be wildly popular, at least among the competitors — and a portion of one concerto of the performer's choice, plus standard repertoire solo works.  At the risk of being a bit crass, here is my racing form so far:
Jin Uk Kim, 28 from South Korea but residing in Boston these days is a DMA student at the New England Conservatory.  Mr. Kim played two of the Brahms Klavierstucke, Op. 76 in middle of the road mode, without much heat or light.  He chose Interlude II (the choice of 5 of the other nine players as well), a piece from Kirchner's last years, as his American work.  It's an evocative piece which lends itself to a touch of romanticism in tone and Mr. Kim's satisfying approach was appropriately juicy.  Sparks flew from the Six Paganini Etudes of Franz Liszt but the requisite virtuosity turned his sound toward the hard side.  The Brahms Second Piano Concerto is the 32oz porterhouse of piano concerti, and for me, Mr. Kim left a good deal of meat on his plate.  It was a speedy reading of the first movement, without much breathing room, but the second movement was warmer.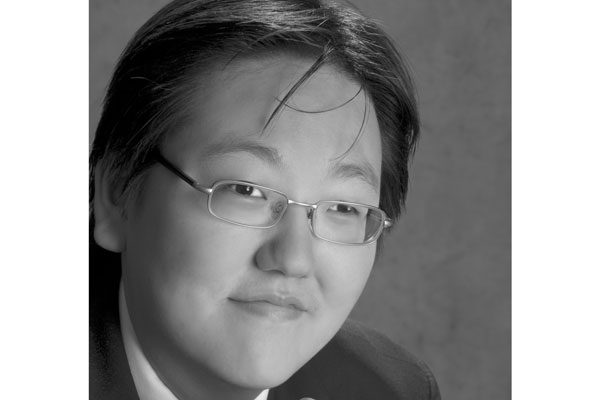 Jeewon Lee, 30, is also from South Korea and pursuing her DMA at Rice University in Texas.  She began with her American work, Michael Torke's Laetus and followed it with the Chopin Piano Sonata No. 3.  This, as all the piano playing world knows, is a towering work of great difficulty, both technically and musically.  Ms. Lee handled the technical demands without batting an eyelash, but the music itself was more problematic.  She tends to back away from the climaxes of phrases in a coy, cutesy way —  coquettish rather than ardent, and I think probably not what Chopin was aiming at.  Her Tchaikovsky Concerto No. 1, however, was fullblooded and very well played.
Diyi Tang was the competitor I missed hearing in the Preliminaries due to that unfortunate combination of confusion about the start time and traffic.  He is 32, from China, and working towards a DMA at Rutgers University.  He made something of a fashion statement, entering the stage dressed in a sharp and shiny brown sharkskin suit.  Fortunately, his Gaspard de la nuit shimmered as well.  Ondine irridesced, Le gibet twisted ever so slowly in a non existent wind, the endlessly repeating B-flats sounding like they were played by some other pianist in some other room far away, and Scarbo terrorized, leaping and whirling and generally throwing the furniture around.  Mr. Tang chose George Walker's Sonata No 2 as his American piece and gave it a thoughtful reading.  Less so Chopin's Scherzo in C-sharp minor, Op. 39 which was strangely uninvolved given the opportunities it presents.  Mainly it was very, very fast with little give, even in the chorale sections.
Saturday's Round Two began with Yue Chu, 28, from China and currently studying in Philadelphia, who started his program with Interlude II.  To my ears Mr. Chu exhibited tonal problems throughout his recital.  He produced a duller sound than his predecessors which didn't flatter him by comparison, particularly in the Liszt Sonata which suffered from a few too many cracked notes as well as insufficient bass, leaving otherwise lush harmonies under-supported.  The Rachmaninoff Third Concerto (first and second movements) was better but still on the cool side.
Masafumi Nakatani, 28 and from Japan, is in the Doctoral Program at University of Miami.  He also opened his program with the Kirchner — a mesmerizing reading with warm sound and pinging high notes.  Things slid downhill from there, however.  Schumann's Carnaval was overpedaled and sloppy with missed notes and memory slips.  That's forgivable in this pressure cooker situation, but in an effort to do something "deep" Mr. Nakatani often twisted the music out of proportion, a propensity that afflicted the Beethoven Emperor Concerto too, and that I am less inclined to brush off.
Fortunately, critics are not expected to exercise neutrality.  I have pointed out what I perceive to be some of the problems of these competitors, but I'd like to say here and now that they are all at a minimum very very good pianists.  Remember that, please, as you read what comes next:
Steven Lin is a whole other order of being.  In this competition, he is a leopard in a room full of house cats.  (Mr. Lin may also prove to be a cure for triskaidecaphobics since he is Competitor No. 13).  There is little to say except to marvel at his level of technical accomplishment, well above most of the professional pianists who inhabit the world's concert halls these days.  The ease of this young man's playing (he's 23, and of Taiwanese descent but born in the US), his poise and his absolute mastery enable him to really let his imagination loose.  He can do pretty much anything he wants to do.  This is not necessarily always a good thing, but even when Mr. Lin does something slightly cringeworthy, he does it with such astonishing skill and freedom that it's pointless to argue.  He exists in a blissful zone of his own.
Yekwon Sunwoo is also 23, from South Korea and enrolled in the Masters program at Juilliard.  He seems to me a strong contender for a place in the Kapell finals.  He's a technical whiz and a good musician.  My one complaint would be that he uses very soft dynamics too much (this has been something of a trend at this competition).  The Chopin Ballade No. 1 left me feeling cheated at many beautiful moments.  The slow movement of Schubert's Wanderer Fantasy was much the same — projection above all, please,  even at low volume.   His Rachmaninoff Third Concerto, however, practically lifted the roof off the auditorium (and broke a string in the piano as well).
Misha Namirovsky, 31, from Russia by way of Israel is another newly minted Bostonian, now in the DMA program at New England Conservatory.  I'm about 95% sure Mr. Nemirovsky intended to play the German Steinway he used in the preliminary rounds, however, since the string broken during Mr. Sunwoo's Rachmaninonff Concerto couldn't be properly replaced in the 15 minutes allotted between performances, I think Namirovsky must have agreed to use the American Steinway he ended up playing at the last minute.  If that's the way it happened, it's a pretty undesirable position to be put in and I suspect it rattled him, subtly at first and then more overtly as the Schumann Symphonic Etudes proceeded.  By the time the Beethoven Fourth Concerto came along he was back in control and he gave a beautiful if slightly oddball performance of it — the second movement played first, followed by the first movement.
Jun Sun, 23 from China and currently a student at Juilliard, gave an appealingly haunting and reflective performance of (once again) the Kirshner Interlude II, and a carefully articulated performance of Brahms' Handel Variations that was also athletic and fearless at the right moments.  Brahms First Piano Concerto was a little reticent for my taste but it roared occasionally too.
Chamber music is on the program for the next two days followed by the announcement of the finalists.
A Correction:
There are of course inherent problems in publishing same day pieces, and sometimes mistakes are made.  Let me rephrase that:  Sometimes I make mistakes — and I made a lulu the other day when I wrote that Misha Namirovsky had, at the last minute before his performance on Sunday, been forced by circumstances beyond his control to play the American Steinway.  He was, in fact, scheduled to play the American Steinway, has used it from the beginning of the competition and he played it again today in the Chamber Music Round.  My apologies to all concerned.