Park Avenue Chamber Symphony in Review
Park Avenue Chamber Symphony David Bernard, Conductor Terry Eder, Piano All Saints Church, New York October 28, 2012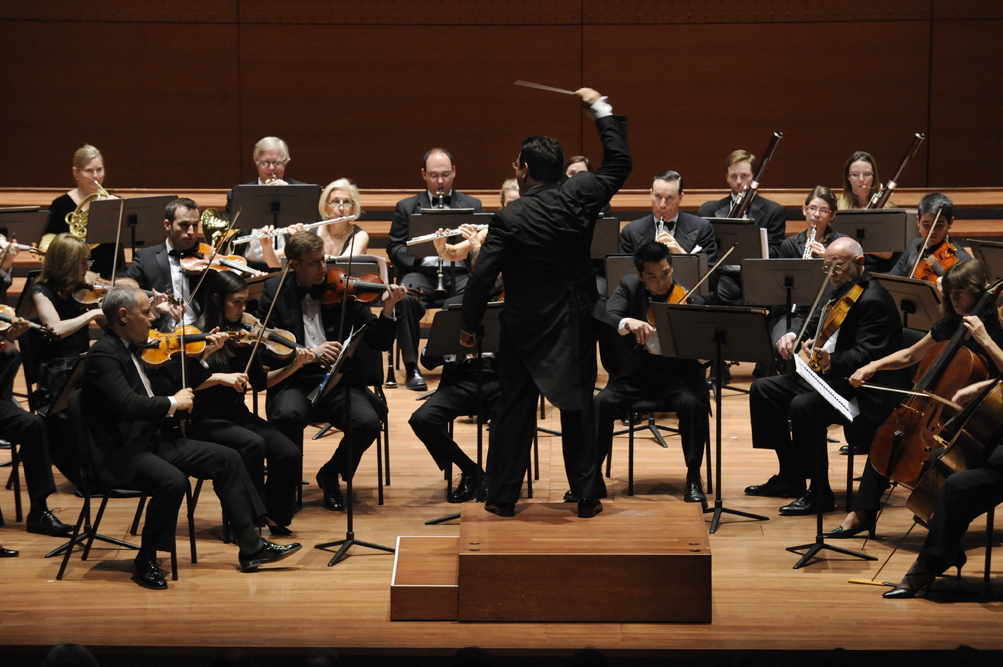 Where do musically inclined Manhattanites go to exorcise their day-job demons when they would prefer following a conductor to watching one through binoculars? The City offers a handful of choices compared with the array of amateur and semi-professional groups one can find in, say, London, where a hidden world class talent might be launched on the collective buoyancy of an auspicious gathering. Here, our community social life facilitates contact and much-needed creative entertainment for the worn out; a conductor's role is one part music educator, one part maître d', one part recruiter/fundraiser, and one part Toscanini-tempered-with-David-Letterman. Concerts, presented after about six weeks of growing hubbub, can be the highlight of a participant's week or month, as many instrumentalists do what they can at home and save their all for the show. The decision to enroll in one ensemble or another can hinge on the location or ambience of rehearsal space as much as the season's repertoire or the conductor's acceptance of an unburnished riff.
The first-rate Park Avenue Chamber Symphony holds its rightful place at the forefront of New York's handful. Chamber seems a misnomer when one surveys seventy musicians, counting a hefty corps of low brass, packed into the apse of All Saints Church, the orchestra's home for the past four or so of its thirteen years. On the eve of devastating Hurricane Sandy, with nary a hint of low pressure rattling its large wooden doors, the church saw a loyal and jubilant tide of admirers within as conductor David Bernard directed a program of German standards. The Sunday concert was the second of a weekend pair titled "Wit and Radiance."
Maestro Bernard cuts a benevolent figure on the podium, more Cheshire cat than tyrant, but his musical instincts (and memory) are superb and his subjects are with him at every lift of a finger. Schubert's mysterious but ubiquitous "Unfinished" Symphony was surprisingly fresh and limpid, with gracefully shaped song floating atop a securely anchored cushion of bass. Indeed, texture can be a tricky issue when balancing such an abundance of reedy and dark-hued instruments, as was evident in Strauss's enormous Till Eulenspiegels lustige Streiche. An ambitious undertaking for any orchestra, this virtuosic, cackling tone poem calls for quick reflexes to capture the dash of vinegar in Strauss's mock-Tristan chords, the sudden reliance on sumptuous strings, or the treacherously ironic French horn and E-flat clarinet solos. All effects were met with resources of confidence and precision.
The conundrum arrived after intermission in the form of Beethoven's "Emperor" Concerto, with accomplished artist Terry Eder unwittingly cast as miracle worker for the afternoon. This frustration she shouldered with an angelic smile and a healthy dose of rubato. Attempts to coax glistening scales and shimmering trills from a piano less than imperial were moderately successful and unforced. The solidity of orchestral bass was a salvation here: apart from some ragged close calls in the first movement development, Maestro Bernard expertly filled in missing low fundamental frequencies and pulse, providing a generous gift to the soloist's left hand. A muted and evocative slow movement erupted into a romping, slightly girlish rondo whose Viennese syncopations took on a rather dance-hall quality.  Ms. Eder was clearly playing with abandon,  and the final runs of the concerto shone with taut facility in the pianist's seamless inflections.